Νέο Τραγούδι & Music Video | The Pussycat Dolls – React
Είστε έτοιμοι για το μεγάλο comeback των The Pussycat Dolls;
Τίτλος τραγουδιού: "React"
Καλλιτέχνης: The Pussycat Dolls
Μουσική / Στίχοι: Nicole Scherzinger, Georgia Buchanan, Johan Gustafsson, William "Simms" Simister, Hannah Wilson
Σκηνοθεσία: Bradley & Pablo
Εταιρεία: First Access
Από το LP: Digital Single
Ημ/νία κυκλοφορίας single: 7 Φεβρουαρίου 2020
Art-Cover: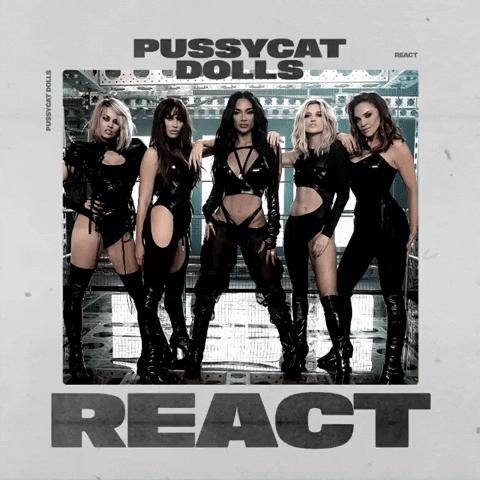 Το "React" είναι το μεγάλο comeback-τραγούδι από το δημοφιλές girl-band των The Pussycat Dolls. To τραγούδι κυκλοφόρησε από τις First Access / Access Records στις 7 Φεβρουαρίου του 2020 και είναι η πρώτη κυκλοφορία του συγκροτήματος μετά από μία δεκαετία δισκογραφικής απουσίας, καθώς και η πρώτη ανεξάρτητη κυκλοφορία τους, αφού έφυγαν αποχώρησαν την Interscope Records. Το "React" ακολουθεί την κυκλοφορία του "Hush Hush Hush Hush" (2009). Στην επανένωση αυτή δεν συμμετέχει η Melody Thornton, η οποία επέλεξε να συνεχίσει με τη δική της σόλο καριέρα.
Το "React" είναι ένα electropop τραγούδι του οποίου οι στίχοι αναφέρονται στο τέλος μιας ταραχώδους σχέσης και γράφτηκε από την Nicole Scherzinger, μαζί με τους Georgia Buchanan, Johan Gustafsson, William Simister και Hannah Wilson. Την παραγωγή του υπογράφουν οι Gustafson, Will Simms και ο Σουηδός παραγωγός Ivares. Το ντεμπούτο του τραγουδιού πραγματοποιήθηκε κατά τη διάρκεια της ζωντανής ερμηνείας των Dolls στο φινάλε της celebrity version του βρετανικού διαγωνισμού The X Factor στις 30 Νοεμβρίου 2019.
To συνοδευτικό music video του "React" γυρίστηκε στο Los Angeles στα μέσα Ιανουαρίου υπό τις σκηνοθετικές οδηγίες του βρετανικού, καλλιτεχνικού duo Bradley & Pablo.
The Pussycat Dolls - React